How to Make Money Licensing Your Music to TV and Movies!
Composers, Songwriters, Bands, Musicians, Managers, Audio Engineers
For beginners, or anyone involved in music licensing:
Do you have a home studio?  Do you have original music sitting around on tape, LP's, CD's or your computer?  Right now, you can be pitching your music to television shows, film, and media (advertising, web, phone, games, etc.) Every kind of instrumental and vocal music is in demand.   You can make money and advance your career at the same time. This class will give you quick and easy information on all aspects of music licensing.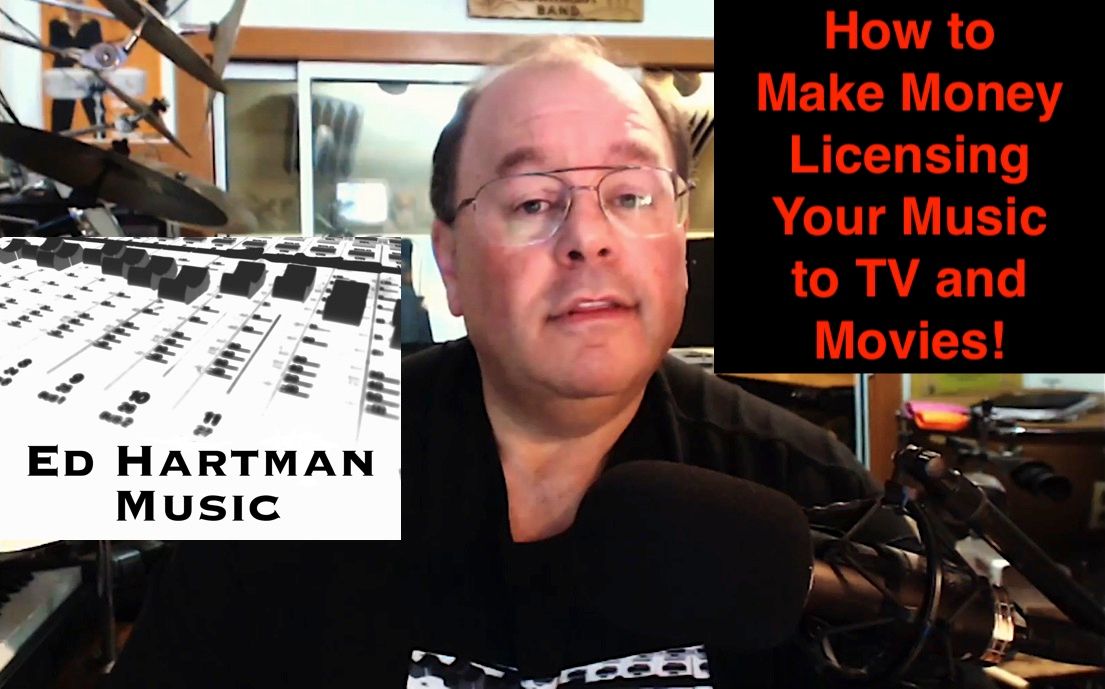 3-minute video about the classes
This is the original class that has taught  1000s of composers, songwriters, producers, bands, and musicians of all kinds, how to get their music into Film and Television.
---
No matter what your current level or experience is, this "do-it-at-your-own pace" class can jump-start you or move you forward into the world of "Sync."
OPTION #1: (Full ONLINE class with Ed Hartman)
Over 4 hours of content, with templates, etc.
Short intro video, with immediate sign-up and ongoing access:
(AKA MUSIC SYNC LICENSING BOOTCAMP)
Ed's Exclusive Personal 25% OFF Discount Code:
With 25% off coupon: $147.75 (Reg: $197)
SAVE25ONSYNC
---
OPTION #2: (One-on-One via Zoom with Ed Hartman)
Whether you are just starting out, or have publishing and your business plan together, one-on-one can be extremely efficient and targeted to your individual needs.  One-on-One is also available as a follow-up to the online class.
You will be able to record the session with a computer.  A phone or pad is not recommended. 
1 Hour: $100.00
1.5 Hours: $125.00
2 Hours: $150.00*
Additional 1/2 hours: $25.00/additional
*Recommended for anyone just starting out.  We can usually add time, if necessary.
Please EMAIL for information. pricing and scheduling.
---
See Ed's Bio page for full credits.
Included in the class:
Create a plan.  This is business!

Home vs. pro studios (Old recordings too!)
Basic training: mix, master and finish your tracks (not too tech, though!)
It's a business!  You are a publisher!

The land of public domain

Are cover songs kosher?
Organizing your tracks and metadata

To copyright or not?

What the heck is a PRO? (BMI, ASCAP, etc.)

Cue sheets:  Make sure you get paid.

See your name on the big screen: credits!
Gate-keepers: Sync agents and Music supervisors

Stockpiling your tunes -  music libraries
Exclusive or non-exclusive deals

Scoring to picture, direct licensing
Upfront sync payments, royalties & monetization
Getting help (pitching portals, community)
Tracking your music and getting paid (Cue sheets!)
Promoting your success! (IMDB, Websites, etc.)
Lawyers, agents, and more...
You will be able to record the class and receive a step-by-step checklist along with the class.  Follow-up sessions are always available. 

There is nothing like hearing your music on a TV show or in a movie theatre. Future royalties could create a new income stream for the rest of your life. Anyone can make money licensing their music.
---
EMAIL to sign up for my FREE monthly Music Licensing Newsletter. 
FREE composer songwriter resources.
---
Comments about the class and individual lessons:
for your website: 
Ed's coaching session with me was insightful and enjoyable too. He has a wealth of knowledge and lots of great experience to share. I know from receiving his newsletters for years that he's generous with his resources and always helpful, and finally, the time was right to book a one-to-one consultation with him. Before the session, Ed surveyed my work and looked for where he could help me out the most, and now I have a clearer action plan going forward. I recommend reaching out for guidance no matter where you are at in the process of working with music libraries and sync licensing.- Michelle Qureshi
"I've been in the business for a long time but still had some blind spots when it came to licensing. Ed filled in a lot of blanks for me. He is very informative and easy to communicate with!" - Mark Marshall
"Ed delivers, hands down, one of the best introductions to the subject of music licensing I could have hoped for! Highly informative, engaging, and detailed! I can't wait to put to use, all of the incredible information that he provided, and his enthusiasm for the subject, was a genuine breath of fresh air! I highly recommend his classes, thank you Ed!"  - Minio Class
"I have been composing music for media for over a decade and decided to do a one-on-one call with Ed to get a new perspective on the industry.  He provided much insight to the business and world of music sync licensing, and his knowledge of libraries, contracts, and networking is vast and well-organized.  Highly recommend his class or one-on-one!" - Chris Joye
"Very well-presented and useful information from a guy who knows his stuff.  The slides and notes are extremely well-organized and easy to follow after the course.  Ed also took many questions during the course and provided detailed answers.  Lastly, I'd say he took the time to listen to my music and offer some advice on logical next steps for me.  Highly recommended!" - Michael Murray
"I highly recommend Ed Hartman for anyone who wants to get going in the sync licensing business for their sound recordings.  Ed covers technical aspects like how to submit music and necessary requirements like work for hire documents and other legalities.  Surely you will want to start with a minimum two-hour session as there is so much to cover.  I was delighted with all the information and Ed has an encouraging winsome way that makes learning fun.  So much information!  Most important for me is that I have a definite plan on what else to do to improve files for submissions, and recommended targets whether exclusive or non-exclusive online music libraries, pitching services, and even sync-agents.  My highest compliments for an excellent service."  -  Thom Kurtz - Friends To The End
"I've been researching music licensing for several months, but it was beginning to feel like a moving target. The sheer number of libraries offering different terms, each with different markets and needs, was overwhelming.  So I contacted Ed seeking help. He demonstrated a wealth of experience and knowledge, offering concrete and specific suggestions about how to organize my work. He also gave me valuable suggestions on how to generate opportunities, as well as identifying libraries that might be a good fit for my music.   -Beth
"Ed's class was a highly informative and entertaining introduction into the world of music licensing. The class gave me some immediate next steps to take, and resources and a roadmap for the future. Even if you're just licensing-curious, everyone involved in making music should take this class". -Jeremy
"Ed provided a ton of useful information relating to the business aspects of music sync. licensing. This was my first official exposure to the licensing side of the industry, and I came away with several immediate "action items" for taking the plunge! This class was definitely worth the time and money, and I will likely ask for Ed's assistance for future endeavors." -  Randy
"I recommend Ed's class if you're on the fence. With his guidance, I just signed my first deal with a library this week. Thanks Ed!" - Tim
I've taken this class.  If you are relying on music to make a living, you should make it a point to investigate licensing.  Ed actually makes money this way and he is extremely knowledgeable about all the ins and outs.  I enjoyed the class and learned a lot. - Daniel
"The class was very motivating for me; now I know that I can sell music and be successful even after the initial rejections. I also have a huge list of companies that provide music to TV and film industry and that I should explore."  - Edgar
Thanks so much for the information.  Kudos for keeping the class businesslike! I can sense that you have a lot to offer in the dynamics of the class, in the tone that you set!  I thank you so much for sharing all of this with me, I feel very lucky!  - Lane
"Thanks, Ed for this great and informative class! I will put this knowledge to use in my work."   Tamara
"I took the licensing class from Ed about 3 years ago and it was filled with enough information to keep me busy for the past 3 years!  Ed explained in easy to remember terms the different licensing options and how the music libraries work.  He also introduced me to TAXI which is a great way to be able to get your music out there.  I also had an hour consultation with Ed to fill in the blanks about how to get my songs registered with BMI/ASCAP, and Ed knew all the details.  I highly recommend going to Ed's classes and take the time for a one-hour consultation for specific questions or guidance.  Thanks Ed!"  Chet
I highly suggest this class to anyone interested in writing for TV and film! It was a highly informative class, thanks, Ed!  Alyssa
"I attended your class this past Saturday and wanted to express my thanks. it was very informative and well worth my time. I look forward to your newsletter and your book when it comes out.  Your work is a valuable resource to us artists and songwriters." Dion
"Thank you so much for the information, and for sharing your personal musical journey!  I really enjoyed the class, it was fun, and I look forward to participating in other learning/training opportunities you may offer." Tina
"Thank you so much for the wonderful class! You share such valuable information! And the time went so quickly!  I had a great time. So glad to have your emails and such...  It was fun hearing your experiences and your work!"  Angela
"Thank you for sharing your experience with us. You exceeded my expectations by detailing a clear path to break into the world of TV/Film placements."  Bob
"I took Ed's seminar last fall, and because of the information presented. I got a contract with a major music library."  Daniel
"Your class opened my eyes to a lot of options and opportunities I didn't realize were available or accessible.  My number one take away from your class was that I have to take my recordings seriously. All this time I was happy to leave that job to the pros who know what they're doing. Now that I see I have all the tools necessary to do it myself self I have no excuse but to start learning the recording aspect of it all."   Andrew
"Thank you for the very informative course. Gave me lots to think about."  Dan
"I just wanted to say thanks.  It was a very informational and inspirational class, and I really enjoyed it." Eric
"Thank you for a wonderful class this morning.  Great job!  You presented a ton of material and I was surprised at how the time flew.  I appreciated your receptivity to questions and the way the class continually flowed smoothly.  I was able to stay engaged with the material the entire time!  I am so glad that I came."   Elizabeth
---
Sign up on the email list for announcements and tons of info about licensing (FREE). Individual and small group sessions on licensing are available. 
To get on my FREE monthly "Adventures in Music Licensing Newsletter" please email here.  Tons of info. 
(See News link and Links: Adventures in Music Licensing Archives above for past issues.)
Ed Hartman, Soundtrack: The Blind Side. Ed Hartman scores percussive, orchestral, jazz, pop, rock, Latin, world and electronic music. Ed's music has been heard on television (HBO, NBC, ABC, CBS, MTV, Discovery, Green, TLC, WE, Travel, Women, Animal Planet, MSNBC) and in feature films, shorts commercials, documentaries and even a planetarium.