Ed Hartman
Percussion Studio
For decades, Ed has been teaching percussion in the Pacific Northwest
to hundreds of students of all ages.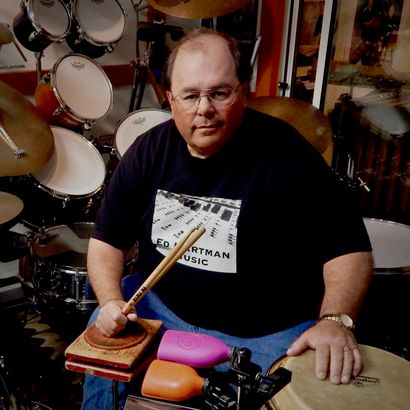 Drumset
Mallet instruments (Marimba, Vibraphone, Xylophone, Bells)
Hand Percussion:  Congas, Bongos, Djembe, Frame Drums.
Concert Percussion:  Bass drum, Snare Drum, Cymbals, Timpani, Traps
Music Licensing:  How to Get Your Music in TV and Film
Ed plays along on keyboards with students, to create a "live band" accompaniment for practical application. Music styles include rock, jazz, classical, Latin, African, Caribbean, and World Beat. Lessons incorporate a variety of methods dealing with technique, reading, improvisation, coordination and theory.  Ed teaches a unique curriculum that features a universal approach of technique, so that students can move around to different percussion instruments easily. Ed accepts all levels of students from beginners to advanced, age 9 and up.
Lessons are available In-Person and ONLINE (via Zoom).
For more information and availability please email Ed.  
NOTE about the video:  I am no longer teaching in Seattle.         
Student/Parent Testimonials:
Thank you, Ed, for teaching me and giving me so much joy and a way to escape. I wish I would have started playing many years ago but excited that I chose to do it one year ago exactly. Excited for the future years and playing with actual humans! - Yevgeniy Frid
"I am still playing drums for fun and am still grateful for the great year of instruction that I had with you at the tender age of 45." - Bob Lockhart
"He challenged my brain and my drumming skills really expanded." Tim Bush
"I started lessons with Ed.  I like how he teaches a wide variety of styles.  Ed shows you how to identify what type of music falls under what category, so his students can be as versatile as possible and can pick up gigs at a moment's notice. The keyboard accompaniment that he uses makes laying down a groove a lot more realistic for his students.  The music theory instruction I received gave me more understanding of improvisation in music." - Lukas R.
"I love how Ed pushes me so my brain explodes just a little, gets me playing something a little more complex than I've done before. He then circles around, plays with me on keyboards and I get a hit of fun music playing to reinforce the lesson. " Bob Freeman
"I took lessons from Ed for 4 years. He taught me how to play drums. He's as nice a person as he is a good drum teacher.  It was a great time taking lessons, marching in street fairs and doing drum ensembles with him. You'll learn a lot from Ed."  Bob Flanigan
"I got to know about Ed through a percussion performance group that he taught at North Seattle College along with private lessons.  (I am not a drummer or percussionist). I learned how to split patterns between two different percussion instruments to create style.  I consider Ed a percussion genius in teaching and performance and a Puget Sound treasure. He's played marimba on one of my compositions, and also gave lessons to my then 14-year-old daughter who was exploring drums.  We talk about that experience to this day.  I am a rabid fan of this man and am indebted to him for opening my eyes to percussion and music."  Jim Billington
"I have been teaching percussion for more than 45 years. Because of logistics one of Ed's students could not make the move to his new studio so last year I became his new instructor. Never have I had a more well prepared and competent student than this 14-year-old young man. He plays beautifully with taste and skill. His reading abilities far exceed his age and he is eager for challenging new experiences. This year he was named the best soloist at a national Middle and High School School big band competition. I mention all of this to emphasize that he could not have accomplished this without the solid foundation that he was given during Ed Hartman's time with him. I heartedly recommend Ed Hartman to anyone wishing to begin lessons or for anyone wishing to improve their skills on drumset and pitched percussion."  John Lester, Seattle                               
"Lessons with Ed Hartman are a rich music learning experience.  Over 3 years of working with Ed, my daughter not only learned how to play drums, bells, and marimba, but Ed also opened her eyes and ears to lots of different styles (Jazz, Brazilian, Africans, etc.) and shared musical history with her as well.  There are music teachers and then there are music educators - Ed is the latter.  I confess that I was skeptical of my daughter's interest in switching from the piano to drums, but in the end, we feel lucky that we got connected with Ed.  He's spent decades playing and teaching and clearly this is his passion.  I highly recommend lessons with Ed for kids or adults - he teaches more than just playing the drums! "  Anna D.
I'm am a beginner at playing the drums. Ed had been very patient...he doesn't overwhelm me and he gets me to relax. He makes it FUN! I'm learning a lot and making progress. I'd recommend him to anyone who wants to learn to play the drums.  Diane K.
"I started taking lessons from Ed because my relationship with time was shaky at best even though I loved-will always love percussion. And I wanted to be a better hand drummer. Right away, Ed was teaching me music theory, syncopation, technique, independence and he wrapped it all together each week with great songs and stories. He made me laugh, too. One thing led to another and I got a drum kit and lessons expanded to beginning set drum instruction. I also appreciated Ed's expert guidance regarding practice tools, including music books and the Amazing Slower Downer program to aid independent practice. Last but maybe most important, lessons with Ed always included being in total awe of music."  Brooke G.
"I can't say enough good things about Ed. As my very first drum instructor, not only he put me on the right path by giving me the information and necessary tools to be a well-rounded player, he also showed me a glimpse of real-life situations as a working musician by taking me to drum clinics and seminars that he was hosting. Looking back now, I feel Ed also had instilled me the importance of being able to teach and mentor the youth, something that I love doing for many years myself."  Kenji Tajima (NYC session/The Rob Balducci Band) 
"I studied Jazz drums with Ed for two years. He was just wonderful. Ed is patient and kind and he is so knowledgeable. I've played classic rock most of my life but I learned a lot about rock as well as Jazz. I recommend Ed for the beginner or the advanced drummer. He is terrific." Paul Herrick (Percussionist for Off the Rock and The Del Montes)
"Thank you so much for being my teacher, even though I feel it was much too short of a time I was taking lessons with you, it has improved me as a drummer very much and I can't wait to see how I'll use these skills in my videos and other situations."   Aidan O. 
"Carl told us early on that he wanted to major in music at college. However, since neither my husband nor I have any music background we were completely useless in that stage of Carl's life. You, on the other hand, gave Carl excellent advice and helped him navigate the process of applying and auditioning at colleges. It is not an exaggeration to say that Carl is where he is because of you. He is THRIVING at Eastern – he loves the program, the professors, the process and is excelling in all his classes. Later he told me that he was glad that we found you when we did because even a year earlier he wasn't sure he would have had the maturity and focus it took to have lessons with you. You came along at the right time." Betsy Christensen
"I had many teachers in my teens, but Ed Hartman was the first who really believed in me. Before lessons with Ed, I had no real understanding of music theory, but Ed explained things to me in a way that made sense and I was able to audition into multiple music schools and receive scholarships."   Carl Christensen (EWU Graduate)
To get on my FREE monthly "Adventures in Music Licensing Newsletter" please email here.  Tons of info. 
(See News link and Links: Adventures in Music Licensing Archives above for past issues.)
Ed Hartman, Soundtrack: The Blind Side. Ed Hartman scores percussive, orchestral, jazz, pop, rock, Latin, world and electronic music. Ed's music has been heard on television (HBO, NBC, ABC, CBS, MTV, Discovery, Green, TLC, WE, Travel, Women, Animal Planet, MSNBC) and in feature films, shorts commercials, documentaries and even a planetarium.