Ed Hartman
In Concert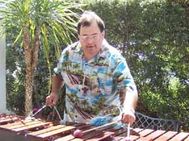 Solo Marimba (One-Man-Band) & Guest with Your Ensemble.
Ed Hartman is available for solo performances at colleges and high schools.
Programs available:
"How to Make a Living Playing Mallet Percussion"
Concert/Clinic featuring his "One-Man-Band" using digital-delay equipment and hand-percussion. Ed has been both a performer and booking agent. He can teach students about realistic and practical opportunities for making money as a musician.
"How to Make Money Licensing Your Music to TV and Movies!"
(Music Licensing Business Seminar - College level & up)
See Music Licensing Classes for more information. (Can be an "add-on class to a clinic.)
---
Presenter needs to supply equipment (4.5 octave or larger marimba, and 3-octave vibraphone, amplifier, mics, etc.)
Possible co-sponsorship is available for institutions with YAMAHA equipment.
Travel and Accommodations TBA.  Multiple events are recommended in an area to save cost.
---
The Olympic Marimba Band (Salsa Blue)
The Olympic Marimba Band (Baby Makes Three)
The Olympic Marimba Band (The Jump)
The Olympic Marimba Band (Ghana Fly Now)
To book Ed Hartman contact:
---
Ed has performed at 1000s of events over the years and can teach students how to create their own shows, and book themselves at unique events. (Client list available)
---
"Watching Ed create a swingin' samba groove at Seattle Center's World Rhythm Festival (with his loop pedal), followed by some stellar mallet playing on his marimba was absolutely fantastic"!
Jeff Busch (percussionist with 3x Grammy Award-winning singer Carlos Cascante and 3× Latin Grammy-nominated pianist Jovino Santos Neto)
"Thank you so much for your fabulous performance at the Music on the Plaza Concert Series!  You sounded awesome!  Folks have been emailing me and stopping me in the hall complimenting me on my good taste in music.  You all really made me look good!"
Snohomish County, Economic & Cultural Development 
---
To get on my FREE monthly "Adventures in Music Licensing Newsletter" please email here.  Tons of info. 
(See News link and Links: Adventures in Music Licensing Archives above for past issues.)
Ed Hartman, Soundtrack: The Blind Side. Ed Hartman scores percussive, orchestral, jazz, pop, rock, Latin, world and electronic music. Ed's music has been heard on television (HBO, NBC, ABC, CBS, MTV, Discovery, Green, TLC, WE, Travel, Women, Animal Planet, MSNBC) and in feature films, shorts commercials, documentaries and even a planetarium.