The Washington State Day of Percussion & World Rhythm Festival (Pre-History)
For you history buffs that wonder, how did that event ever get started?  We'll your in luck, here's the real story.  
Back in the 1980s, Seattle was a nice little town, Seattle Center still had the "
Bubbleator
", and John's Music Center was on University Way, in Seattle.
 John Avinger
invited Ed Hartman, a recent transplant (1979 from Evanston, IL) to sublease a permanent teaching studio in the back of his store.  Ed started to create percussion classes through the UW Experimental College, in the small store.  Students of the classes wanted more meetings, events, and drum circles (at that time a rather new idea). The students organized monthly jamming events, and then became the founders of the Seattle World Percussion Society (SWPS).
Around that time, Ed created the "Days of Percussion" in 1986, at Seattle Center. After arriving in Seattle in 1979 from the Midwest, he soon took over the Chapter State Presidency of Percussive Arts Society (PAS) an international organization of percussion professionals, educators, and students. Coming from the midwest, Ed had seen very large percussion events. Up to that point, the annual P.A.S. events were held mostly in colleges, mainly for classical percussionists.
•1986: The first Seattle area event was held in the Seattle Centerhouse and included an impressive variety of local drummers, mallet players, and percussionists (Batucada Yemanja, Happy Hammers from Spokane, Leslie Milton, etc). The upstairs rooms had workshops, and there were performances on the stage.
• In 1987, Rick Latham, a great nationally known funk drummer, did a performance and workshop. To hype the event, Ed created the "World's Longest Drum Roll". T.V. and media picked up on the idea, and the roll was executed by a variety of professional drummers (especially Greg Keplinger) throughout the day (8 hours!), without stopping.
The Days of Percussion moved to North Seattle Community College (NSCC), the next year, because Ed was on the faculty. The event started to grow over the next few years, and many National drummers sponsored by large drum manufacturers, started to participate. More booths started to appear, as equipment manufacturers and retailers became aware of the growing consumer population attending. Hundreds of door prizes were sent by manufacturers, sometimes taking an over an hour to be given away.
For the next few years, many national names came to perform at the event:
• 1988: (NSCC) John Hernandez, Bobby Rock, and famous jazz drummer, Roy Burns
• 1989: (at the UW, Combined with the NW Perc. Ens. Festival). Steve Smith , and Gerry Brown. Also, many professors from nearby universities, including: John Baldwin (BSU), Charles Dowd U of Oregon, Dave Jarvis (WSU), and Brian Cole (ISU), Andrew Spencer (CWU)
• 1990: (NSCC) (Start of more world perc. activities) Jerry Steinholtz, William Ludwig, Jr., Dom Famularo, Sonny Emory, Vinne Appice.
• 1991: (NSCC) Chuck Silverman, Richie Garcia, Larrie London, Mike Baird, Casey Scheurell, Michael Shrieve.
• 1992: (NSCC) Peter O'Gorman, Freddy Gruber, Chad Rager, Bernard Purdy, Arthur Hull (Drum circles begin!), Olu Meji,
• 1993: Move to Seattle Center...
John Avinger (John's Music) first started to participate in the PAS Days of Percussion at North Seattle Community College, first as a vendor, and then, as the drum circle idea developed, an organizer. North Seattle became too small for the event (especially the drum circle, which was attracting hundreds of people). Ed's early contacts at Seattle Center enabled the move there, where the World Rhythm Festival actually began with many aspects of the old style Days of Percussion (national performers, vendor booths, local and regional performers and educators). In 1993 Ed Shaughnessy (from the Tonite Show band), and other national drummers combined with the world percussion flavor, to create a unique event, to this day bring in tons of rhythmic enthusiasts.  At the first year of the official Days of Percussion/World Rhythm Festival, the event was very large, and used a number of event spaces at Seattle Center.  Over the next 25+ years, hundreds of clinicians, students, enthusiasts, and pros have attended and presented clinics, workshops and performances for thousands of participants.
From here, go to
swps.org
 for more current information about
The World Rhythm Festival!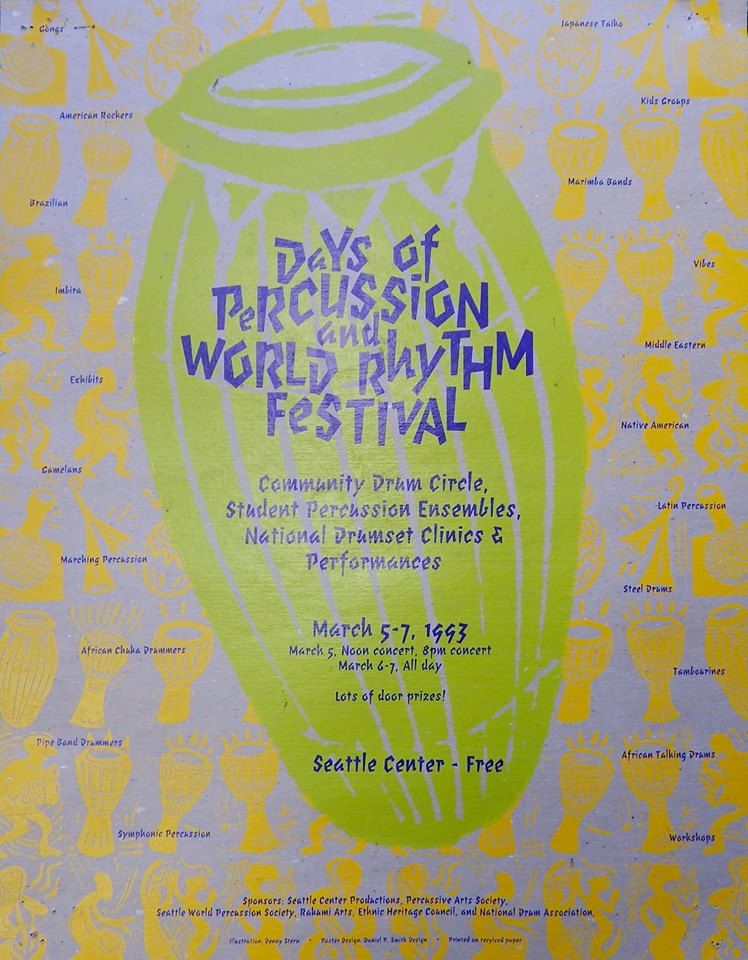 To get on my FREE monthly "Adventures in Music Licensing Newsletter" please email here.  Tons of info. 
(See News link and Links: Adventures in Music Licensing Archives above for past issues.)
Ed Hartman, Soundtrack: The Blind Side. Ed Hartman scores percussive, orchestral, jazz, pop, rock, Latin, world and electronic music. Ed's music has been heard on television (HBO, NBC, ABC, CBS, MTV, Discovery, Green, TLC, WE, Travel, Women, Animal Planet, MSNBC) and in feature films, shorts commercials, documentaries and even a planetarium.