"AS THE EARTH TURNS" (score by Ed Hartman) 
NOW AVAILABLE ON AMAZON PRIME! Coming to Turner Classic Movies (TCM) in 2021.
Astheearthturns.com (All links)
Upcoming confirmed screenings of "As the Earth Turns": (See below for full list of festivals and awards)
(As the Earth Turns is available for virtual screenings to film societies, film schools, retirement homes and centers, arts organizations, or anyone that is interested in a private viewing including Q&A with Ed Hartman the composer and producer.  EMAIL.
Recent virtual screenings:
* Edmonds Arts Commission
* Center for Home Movies
Recent screening at Timber Ridge (Retirement Community), Issaquah, WA: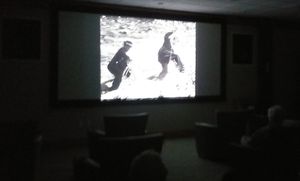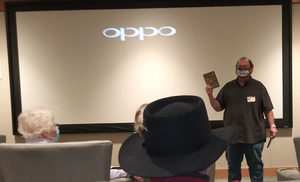 ---
122 Festivals/Awards, 136 Overall Awards/Nominations as of 04-12-21!  
52 Weeks Film Festival

WINNER - BEST MUSICAL SCORE       

WINNER              

BEST FEATURE FILM

6 on Nebraska

 

Action on Film Megafest

BEST SCIENCE FICTION FILM (NOMINATION)

BEST PERIOD PIECE (NOMINATION)

American Asian Latino Film Festival NYC

 

Amsterdam Lift-Off Film Festival Online

 

Aphrodite Film Awards

FINALIST

ARFF Barcelona // International Awards

WINNER - BEST EXPERIMENTAL FILM

Austin Indie Fest

WINNER-BEST SCI-FI

Beach Cities Inspirational Film Festival

WINNER-OUTSTANDING RECOGNITION

Bedford Falls Film Festival

BEST DIRECTOR (NOMINATION) GEORGE BAILEY AWARD (NOMINATION)

Blastoff

BEST FEATURE FILM (NOMINATION)

BEST SCORE (NOMINATION)

BEST VISUAL FX/MAKEUP (NOMINATION)

Bloodstained Indie Film Festival: Sci-Fi Horror Action

 

Blow-Up International Arthouse Film Festival

SEMI-FINALIST

Calcutta International Cult Film Festival

WINNER - BEST SILENT FILM

Canada Shorts - Canadian & International Short Film Fest.

WINNER - AWARD OF DISTINCTION

Caorle Film Festival

 

Carmarthen Bay Film Festival

 

Central States IndieFanFilmFest

WINNER - BEST SILENT FILM

BEST SOUNDTRACK (NOMINATION)

Chambal International Film Festival - Season 3

 

CKF International Film Festival

 

Clifton Film Celebration

 

Colortape International Film Festival

QUARTER-FINALIST

Columbus International Film Festival

SEMI-FINALIST

CrashLanded

WINNER - BEST SCI-FI

Creation International Film Festival

 

Cult Critic Movie Awards

WINNER - BEST CULT FILM

WINNER - BEST FILMSCORE/SOUNDTRACK

JEAN LUC GODARD AWARD WINNER 2019

(TCCC: CULT FILM / UNDERGROUND FILM / EXPLOITATION MOVIE / MIDNIGHT FILM / PARA CINEMA)

Depth of Field International Film Festival

WINNER - EXCELLENCE BOTH CATEGORIES

WINNER - AWARD OF OUTSTANDING EXCELLENCE: DIRECTION, RICHARD LYFORD

WINNER - AWARD OF EXCELLENCE: ORIGINAL SCORE, ED HARTMAN

WINNER - AWARD OF EXCELLENCE: SFX VISUAL,  RICHARD LYFORD

WINNER - AWARD OF EXCELLENCE: ORIGINAL CONCEPT

WINNER - AWARD OF OUTSTANDING EXCELLENCE: VIEWER IMPACT: ENTERTAINMENT VALUE

Desert Edge Global Film Festival

 

Diamond Film Awards

 

Dumbo Film Festival

 

East Europe International Film Festival - Warsaw Edition

 

Eurasia International Monthly Film Festival

FINALIST

Euro fest European International Film Festival

WINNER - BEST FEATURE

WINNER - BEST SCORE

Film Festival @ Browns Point

WINNER - PUT EYES ON WHAT'S WORKING AWARD

FINDECOIN – Independent International Short Film Festival 

 

Gen Con Film Festival

 

Global Film Festival Awards

WINNER - BEST SCI-FI SHORT

WINNER - BEST ORIGINAL SCORE

Global Independent Film Awards

WINNER - GOLD AWARD - BEST SCORE

Global Indian Film Festival 

WINNER - BEST FEATURE FILM

Global Nonviolent Film Festival

WINNER - BEST ORIGINAL PRODUCTION DESIGN

Hollywood Dreams International Film Festival Competition

WINNER - BEST SPECIAL EFFECTS- FEATURE

BEST SCIENCE FICTION- FEATURE (NOMINATION)

BEST SCIENCE FICTION - SHORT  (NOMINATION)

BEST PERIOD PIECE  (NOMINATION)

Hollywood Hills Film Awards

WINNER - BEST FEATURE FILM

WINNER - BEST SCORE

Hollywood Horrorfest

SEMI-FINALIST

Hollywood International Moving Pictures Film Festival

SEMI-FINALIST

Hollywood Sun Awards

WINNER - BEST SCORE

WINNER - BEST EDITING

WINNER - BEST DIRECTOR

WINNER - BEST VISUAL FX

WINNER - BEST NARRATIVE FEATURE

Hollywood West Wing Film Competition

WINNER - BEST CINEMATOGRAPHY

WINNER - BEST DIRECTOR

WINNER - BEST SCORE

WINNER - BEST SHORT FILM (3rd PLACE WINNER)

Hyperwave Film Awards

SEMI-FINALIST

Independent Music Awards

NOMINATION: FILM/TV/GAME SCORE

Independent Shorts Awards

WINNER - OUTSTANDING ACHIEVEMENT SPECIAL JURY PRIZE 

Independent Talents International Film Festival

WINNER - MID LENGTH - FICTION - NOMINEE

Indie Short Fest

WINNER - OUTSTANDING ACHEIVEMENT SPECIAL JURY NOMINATION 

IndieX Film Fest

WINNER- BEST SET DESIGN 

BEST VISUAL FX (NOMINATION)

BEST ORIGINAL SCORE (NOMINATION)

Kapow Intergalactic Film Festival

WINNER BEST SCORE/SOUNDTRACK BEST ENSEMBLE - COMEDY/MUSICAL (NOMINATION)

 

 

Kathmandu World Film Festival (KWFF)

SEMI-FINALIST

LA Cinefest

SEMI-FINALIST

LA Edge Film Awards

WINNER - BEST EDITING

WINNER - BEST SCORE

2ND RUNNER UP - BEST NARRATIVE FEATURE

LA Shorts Awards

WINNER - BEST SCORE

WINNER - BEST SHORT FILM (PLATINUM)

Las Vegas International Film and Screenwriting Competition

WINNER - BEST FILM SCORE

WINNER - BEST SCIENCE FICTION FILM

Life After Life Film Festival

HONORABLE MENTION

Liift India Filmotsav - World Cine Fest

FINALIST

Local Sightings Film Festival

 

London International Filmmaker Festival Of World Cinema

BEST ORIGINAL SCORE (NOMINATION)

BEST SOUND DESIGN (NOMINATION)

London International Motion Pictures Awards - LIMPA

 

London Lift-Off Film Festival Online 2019

 

Los Angeles Global Lift-Off Online Festival

FINALIST

Los Angeles Independent Film Festival Awards

WINNER - BEST SCORE

Lucky Strike Film Festival 

BEST SHORT (NOMINATION)

Mediterranean Film Festival 

 

Melbourne Global Lift-Off Online Film Festival

 

Mindfield Film Festival - Albuquerque

WINNER - BEST CINEMATOGRAPHY (DIAMOND)

WINNER - BEST DIRECTOR (PLATINUM)

WINNER - BEST SHORT FILM (SILVER)

WINNER - BEST ORIGINAL SCORE (SILVER)

WINNER - BEST VISUAL FX (SILVER)

Mindfield Film Festival - Los Angeles

 

Munich Film Awards

WINNER - BEST FEATURE FILM

Musicanzone Film Festival

WINNER - BEST FEATURE FILM

Myrtle Beach International Film Festival 

WINNER - BEST FILM PRESERVATION RUNNER UP - BEST FEATURE

New Era Film Festival 

FINALIST

New Vision International Film Festival 

 

New York Global Lift-Off Online Festival

 

Nickel Independent Film Festival

 

Noida International Film Festival

 

Northeast Mountain Film Festival 

 

NYC Indie Film Awards

WINNER - BEST SHORT FILM (PLATINUM AWARD)

WINNER - BEST SCORE (DIAMOND AWARD)

Olympus Film Festival

WINNER - BEST SCI-FI (ZEUS AWARD)

Oniros Film Awards

FINALIST - BEST SOUNDTRACK

WINNER - BEST SILENT FILM

Out of the Can Film Festival

BEST SOUNDTRACK (FINALIST)

Phenomenal Film Festival

 

Pinnacle Film Awards

WINNER - GOLD AWARD

WINNER - BEST SCORE GOLD AWARD

Polish International Film Festival

 

Political Edge Film Festival

 

Rajasthan International Film Festival

 

Realtime Internationall Film Festival

SEMI-FINALIST

Reel East Texas Film Festival

 

Rocky Mountain International Film Festival

FINALIST

Rondo Hatton Classic Horror Awards

HONORABLE MENTION: SHORT FILM

Rosarito Film Festival

WINNER - BEST SHORT

Royal Wolf Film Awards

WINNER - BEST SCI-FI SHORT

WINNER PLATINUM - BEST ORIGINAL MUSIC

Sci-Fi Genre Lab Lift-Off Film Festival

 

Seattle International Film Festival

 

Shepperton Screenwriting Festival

 

Show Low Film Festival

FINALIST

SIFF - Switzerland International Film Festival

 

South Europe International Film Festival

BEST EXPERIMENTAL FILM (NOMINATION) BEST SHORT FILM (NOMINATION)

Southern Cone International Film Festival

WINNER - BEST FICTION FEATURE FILM

Southern States IndieFanFilmFest

FEATURE OR FEATURETTE SOUNDTRACK (NOMINATION)

EXPERIMENTAL/ART HOUSE/FILM NOIR/SILENT FILM (NOMINATION) 

 

Speculative Film Fest

HONORABLE MENTION: BEST FEATURE FILM

Sydney Global Lift-Off Online Film Festival

 

The European Independent Film Award

WINNER - BEST SCORE PLATINUM AWARD

The Norwegian International Seagull Shortfilm Festival

 

The World Independent Cinema Awards

 

Toronto Global Lift-Off Online Festival

 

Tulalip Hibulb Film Festival

WINNER - BEST FEATURE

WINNER - BEST ACTING (MALE)

3RD PLACE - BEST DIRECTOR

RUNNER-UP - BEST MUSICAL COMPOSITION

UNDO Divergent Film Awards

BEST SCI-FI-FANTASY FEATURE (NOMINATION)

United States Film Festival

WINNER - BEST U.S. FEATURE FILM

Utah Film Festival and Awards

SEMI-FINALIST

Virgin Spring Cinefest

WINNER - BEST MUSICAL SCORE

WINNER - NARRATIVE FEATURE

GOLDEN GALAXY AWARD BEST MUSICAL SCORE (NOMINATION)

GOLDEN GALAXY AWARD NARRATIVE FEATURE (NOMINATION)

Votkinsk International Film Festival

 

West Coast Film Festival

WINNER - CHAPLIN GOLD BEST SCIENCE FICTION AWARD

WINNER - CHAPLIN GOLD BEST SCORE AWARD

WINNER - GOLD HG WELLS AWARD

West Europe International Film Festival

BEST EXPERIMENTAL FILM (NOMINATION) BEST SHORT FILM (NOMINATION)

White Rocks Film Festival 

WINNER - BEST SCORE

White Unicorn International Film Festival

WINNER - BEST FILM SCORE

WINNER - BEST SILENT FILM

WorldFest-Houston International Film Festival

WINNER - REMI AWARD SCIENCE FICTION

WRPN.TV Short, Tight and Loose Global Film Festival Competition

WINNER - LOOSE SHORTS - AWARD OF EXCELLENCE

WINNER - LOOSE SHORTS - AWARD OF EXCELLENCE: BEST SCORE

Zed Fest Film Festival

SEMI-FINALIST - Zed Fest Film Festival  Screenplay Competition